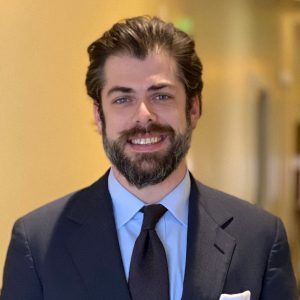 My name is Stefan, and I am happy to be working at Lion Legal Services. I handle a lot of our family law cases, with some appeals and civil matters scattered around.
If you talk to many lawyers, you will find that many (or most) can't stand their job. They complain about everything. I won't say that I never have a hard day; but I will never understand why so many lawyers are miserable. The law itself is fascinating; it explains so much about how we got here and who we are. I like being a small part of that.
I also really enjoy helping clients. I love to get to know them and understand where they are coming from. This not only helps me be patient; but it also helps me to better understand how I can use my skills to get the best result. Many lawyers take for granted that they know what is best for each client, but each client is different. If you don't listen and don't care to know someone, you can't know what they need.
The lawyer-client relationship is unlike any other relationship. It requires me to remain absolutely 100% loyal to each client. It requires me to sacrifice myself before I sacrifice a client. It requires a lot of hard work, thoughtfulness, and the grit to fight for as long as it takes. This is what my clients can expect from me.
I was born in Texarkana, Texas and grew up in the country. Before law school, I attended seminary in Kentucky. I decided to go to law school after I finally admitted that my hands aren't much good for anything but turning pages and typing. I can grow some vegetables, too, but that's a real hard way to make a living.

I enjoyed law school and made a lot of lifelong friends that I still see regularly. I did well in most of my classes, and I was on law review and belonged to student organizations like the Christian Legal Society.
Since I graduated, I have consistently been involved with the Arkansas Bar Association and in that capacity have attended several American Bar Association events. I am also a proud member for the Arkansas Trial Lawyers Association, and I support their efforts to preserve our right to a jury trial and resist the efforts of special interest groups to put a price tag on human life.
When I'm not at work, I prefer to be spending time with my outrageously interesting son. We talk about life and listen to a lot of old country music. I also like to read, cook, and spend time outside.
My email is smcbride@lionlegalservices.com. 
Thank you for visiting the Web site of Lion Legal Services. This site is for informational purposes only. None of the information is intended to, nor does, constitute legal advice or the formation of an attorney-client relationship. The information is not guaranteed to be correct, complete, or current. 
You should not act or rely on any information at this Web site without seeking the advice of an attorney. Any information that you send us in an e-mail message might not be confidential or privileged, and sending us an e-mail message will not make you a client of Lion Legal Services. 
This Web site contains links to other resources on the Internet. The links are not intended to state or imply that Lion Legal Services sponsors or is affiliated or associated in any way with the information at those other Web sites.